Grassroots Football & Covid-19
Authors: Stuart Smith & Neil Hardcastle.
15th January 2021.
What do we mean by grassroots football? We need to start by understanding the structure of league football. Most football fans will know that after the Premier League, the Championship, League One and League Two make up the rest of the English Football League. Beneath these there are a further six FA accredited 'Steps' in the National League System, whereby any club could rise through the 'football pyramid' to the heights of the top tier… theoretically, at least!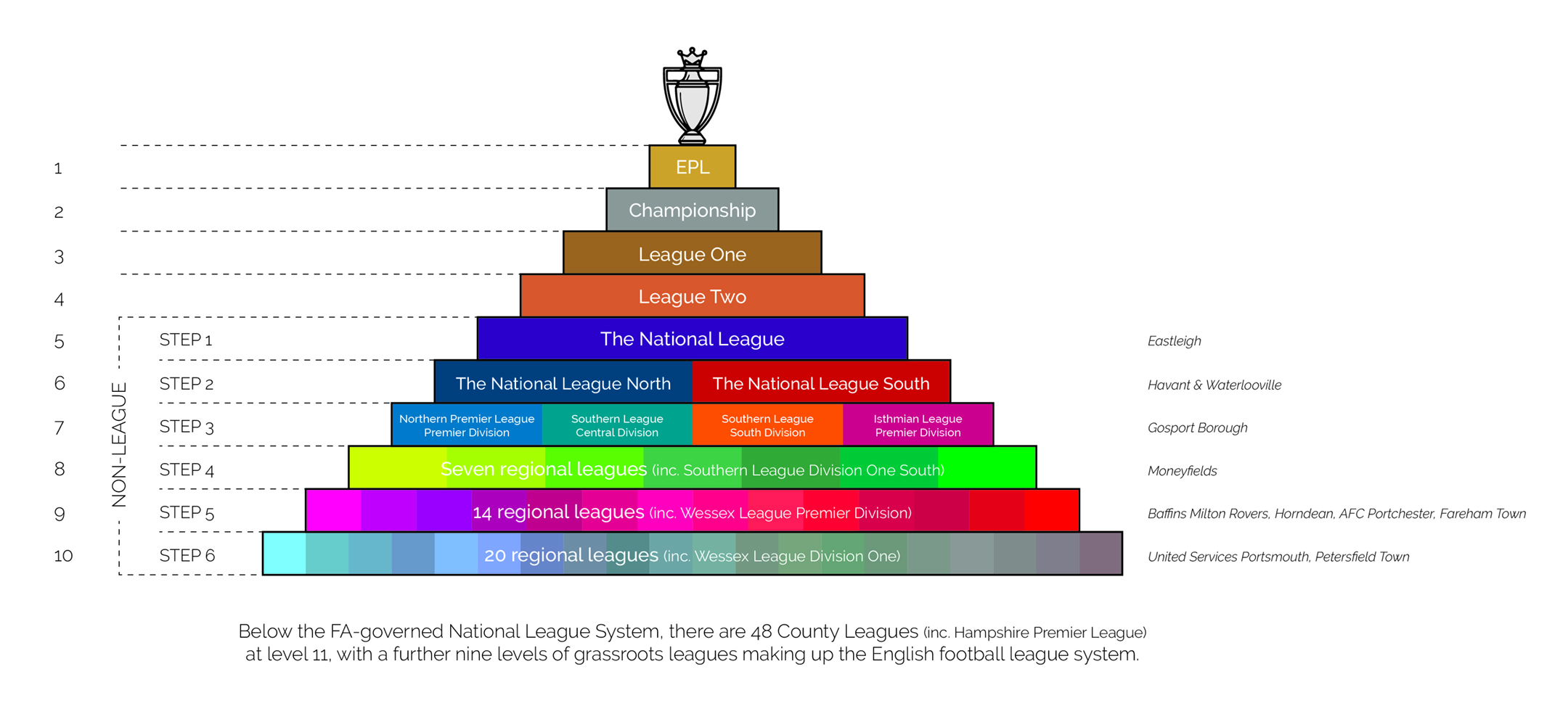 I know of at least three former Mayville pupils who are currently playing non-league football at Steps 4-6, whilst still in their teens. You might recognise some of the clubs listed above and may have even played for or against one of their teams in the local youth leagues.
Youth football, along with Sunday League, also forms part of what is loosely defined as grassroots football. Away from the wall-to-wall TV coverage and rock-star salaries of the Premier League, this is where the vast percentage of football is played, in grounds and parks up and down the country. Grassroots football is essential to the long-term health of the sport at every level, as all elite or professional players will have played grassroots at some point in their development. Further to this, clubs have essential roles in local communities, in bringing people together and making life-long friendships, whether playing together, volunteering or simply spectating.
The health of the grassroots game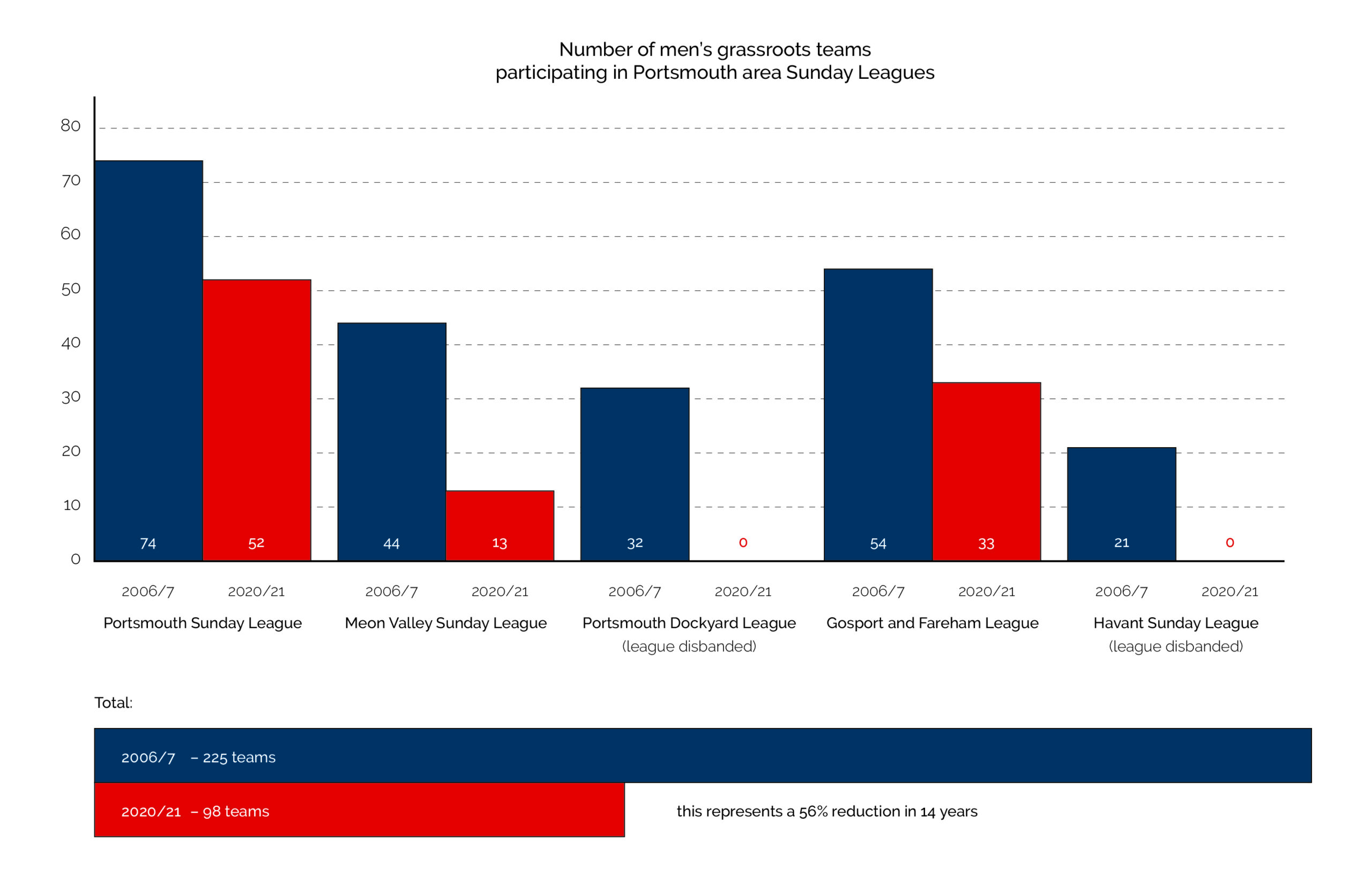 The decline in local grassroots participation illustrated above is, unfortunately, indicative of a wider national trend. What are the reasons behind this?
The rise in popularity of small-sided football centres, such as Goals and Roko – adults seem to prefer the ease of playing at a set time every week (usually evenings). They don't have to mark out pitches or organise a referee, they can just turn up and play.
Increasing cost of pitches (Fareham Borough Council - £88.00 per game). When you add in refereeing costs, a game of senior football will cost the home team a minimum of £125.00.
Football is a popular as ever, with attendance in the Premier League higher than any other league in the world. However, it seems that more than ever before, adults (16+) would rather go and watch football or stay at home and play FIFA on a games console.
Football is still the most popular team sport in the UK for Under 16s, with 45% of boys playing at least twice a month, but if the decline in grassroots adults' teams continues, they will soon have nowhere to play.
As the table above shows, the health of grassroots football was already in decline, long before we come to fully understand the lasting effects of the coronavirus on sport. The State of Play Report, published by Utilita in September 2020, suggests that grassroots clubs have lost 48% of their income since the pandemic struck. The report also finds that one in ten grassroots clubs believe they could be out of business before the end of the season – this equates to around 4000 clubs. According to the parents of players surveyed, 30% of young players did not return to their clubs, when the season was allowed to commence. These figures do not take into effect the further suspension of grassroots sport from the second lockdown, the introduction of tiers, or the current lockdown.
"
The grassroots game is part of the social fabric. You're talking about people who use the facilities if not for physical activity then for social activity and it's massively important for their wellbeing, their physical and mental health.
Me and my friends started playing because we loved the game and the social aspect of it. We weren't dreaming of playing for England.
Once you take away the grassroots football clubs then you don't have that opportunity and that is the big concern for me. If you're not interested as a kid the chances of you being interested as a fan are less and the game needs both. The biggest risk is that we are going to lose a generation of football participants."
David James, former Portsmouth and England goalkeeper, quoted in
The Guardian
Inequality between men's and women's football
Girls' and women's football have seen enormous growth over the last few years, both in terms of participation and supporters. At Mayville, girls' football was added to the timetable last year, in response to enormous demand from pupils. Our girls' teams played a number of fixtures in 2020 and even won silverware in their maiden season. Despite the upward trend in women's & girls' football, we know that the game still lags some years behind its male counterpart, in terms of participation and infrastructure.
The ongoing effects of the pandemic may be responsible for widening that inequality.
When the first lockdown hit in March 2020, the Men's Premier League was suspended until it was allowed to start again in July. The Women's Super League was stopped and the remainder of the season was cancelled.
During the November lockdown, boys' football academies at professional clubs were allowed to remain open, whilst girls' football academies were not. The reason is that the girl's academies were not classed as 'elite' sport. Read more here.
During the current lockdown, Men's football is allowed to continue in the following competitions: Premier League, Championship, League One, League Two, The National League, The National League North & South, The FA Cup, Elite-level academies and the FA Youth Cup. Women's football is only allowed to continue In the Women's Super League and Women's Premier League. The Women's FA Cup and girls' academies are not allowed to continue, as they are still classed as 'non-elite'. This means that 168 men's teams are able to compete currently, whilst only 23 women's teams can play.
Given the steps taken over recent years to close the inequality gap between men's and women's football, the effects of coronavirus could potentially put the progress of the women's and girls' games back by years. Girls who have come to the game more recently may be at greater risk of not returning to the sport and may have increased difficulties finding a team or club if they do choose to return.
---
Most importantly, as young players, stay connected to the game that you love
Stay active. Keep your fitness levels up by jogging, cycling or doing home workouts.
Play in the garden, either on your own, working on ball skills, or practice passing and 1-v-1s with a family member.
Watch football on TV. (

The FA Player app

has free access to live women's matches)
Listen to podcasts / audio books from footballers, such as

Five Live's Football Daily

,

Tifo Football 

or

Guardian Football Weekly

Analyse the matches that you watch, looking at formations, movement on and off the ball, tactics, set-pieces. (The BT Sport app has an enhanced player that lets you choose camera angles.)
Phone your teammates or set-up Zoom meet-ups and quizzes. (The BT Sport app has a 'Watch Together' function, so you can even watch matches with your friends remotely.)
Pledge to return to playing as part of a team, as soon as restrictions are lifted.
Find out if your local grassroots club needs help. Grassroots sport relies on volunteers and the support of local communities. You may be able to organise or take part in fundraising activities, or help to find sponsorship.
Support the Grassroots Fund – https://www.teamgrassroots.co.uk/fund/

Support the Utilita 'Switch Before Pitch' grassroots campaign – https://utilita.co.uk/campaigns/switch-before-pitch
Read more and get free coaching tips – https://www.teamgrassroots.co.uk
Keep up to date on Twitter – https://twitter.com/savegrassroots and https://twitter.com/FootballGrf