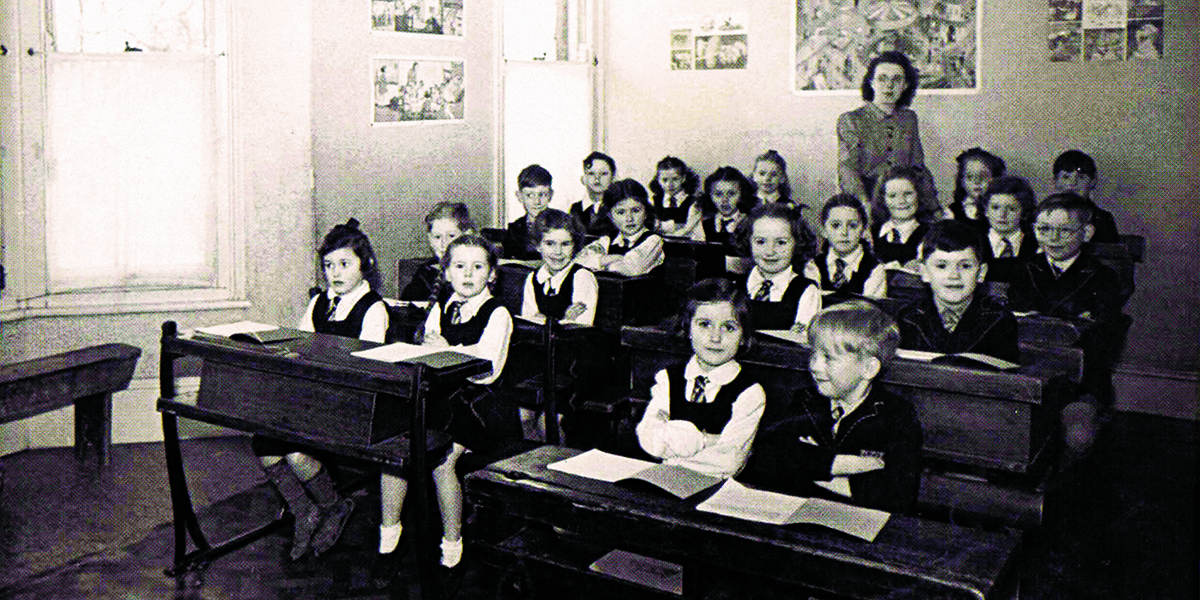 Mayville High School, Founded 1897
Mayville has been at the heart of Southsea life for 125 years. Its longevity is due in part to a visionary ethos, born with its inception, that the 'whole child' is at the heart of education. Founded by Charlotte West in 1897 at No 1 Gains Road, the school then moved to the corner of Waverley Road in 1910, where it became 'Mayville Boarding and Day School for Girls.'
Mayville remarkably was one of the few schools to stay open during two World Wars, despite the intensity of the blitz over Portsmouth in 1940 and 1941.
Then situated in Clarendon Road, with Headteacher Doris Livesey at the helm, former pupil David Carrick recollects being in class and hearing, "The roaring sound of aero engines….. it must have been 30 or 40 feet above the roofs, a German Dornier bomber coming over, and all the crew sat up in front of this sort of glass thing, you could see the crew of the airmen inside." He said the teacher shouted, "Down! Down!"
From 1947 and into the 1950s, Mayville continued to expand with the acquisition of three buildings in Clarendon Road, including Kenilworth House. In the 1950s, Mayville went from strength to strength with this decade heralding the start of foreign travel. Mrs Livesey was a passionate social campaigner, a philanthropist and had a keen business brain. Indeed, she ran Mayville as a successful business, while continuing Charlotte West's holistic approach to education. After nearly fifty years in service, she left the bulk of her estate to the school so it could be established as a Charitable Trust in the 1980s.
Mrs Livesey was a woman ahead of her time, who also believed in tradition and discipline. In the 'Swinging Sixties', she was determined to win the battle to keep the uniform policy in place. In 1968, she called a meeting with her prefects and said, "I pointed out that I liked mini-skirts but in their proper place. We decided between us that three inches above the knee was quite sufficient at school."
Mayville grew and Headteacher Barbara Adams heralded the arrival of computers. Margarette Russell, who succeeded her, raised academic standards but also nurtured Mayville's strong creative arts edge. Adored by the girls, her flamboyant clothes were often teamed with gloves.
Linda March's short headship led to Linda Owens taking over in 1994. At the time she did not intend to stay! However, Mayville worked 'its magic' on her and she spent more than twenty years making the school what it is today. A school that offers something unique to its children and their families: a traditional but broad-based education, academic excellence, with pupil well-being at the forefront.
It was under her headship in the year 2000 that events which could have threatened the future of Mayville, instead saw it being rebuilt. In the autumn term, failure of the storm pumps at Eastney, coupled with heavy rain, meant what was first thought to be puddle caused by someone spilling a drink, was in fact the start of a flood that would engulf the school.
The hall was completely destroyed as water poured in and Pre-Prep's wooden classroom floors were ruined by filthy water.
However, thanks to the fortitude of Head Linda Owens and staff, Mayville flourished with a new Junior School and Pre-Prep Department being built, as well as a new school hall with theatre facilities and a brand new Dyslexia Unit.
Head Linda Owens decided to admit boys in 1994 and adopt an innovative method of teaching that Mayville called 'co-education, separately', with boys and girls being taught the core subjects in separate parallel classes, to best meet their learning skills. While this approach has since been adopted by other schools, Mayville was the first to lead the innovation.
During her time at Mayville, Linda Owens ensured classes in Early Years, Pre-Prep, Juniors and Seniors were small, allowing for individual attention, with lessons tailored to children's needs. She built a Nursery, where children benefited from specialist teachers in PE, Dance, Music, Languages and IT, while thriving in a family 'home from home environment.'
Like her predecessors, she believed strongly that 'it is the happy child who learns' and, under her leadership, pastoral care coupled with academic excellence were both priorities.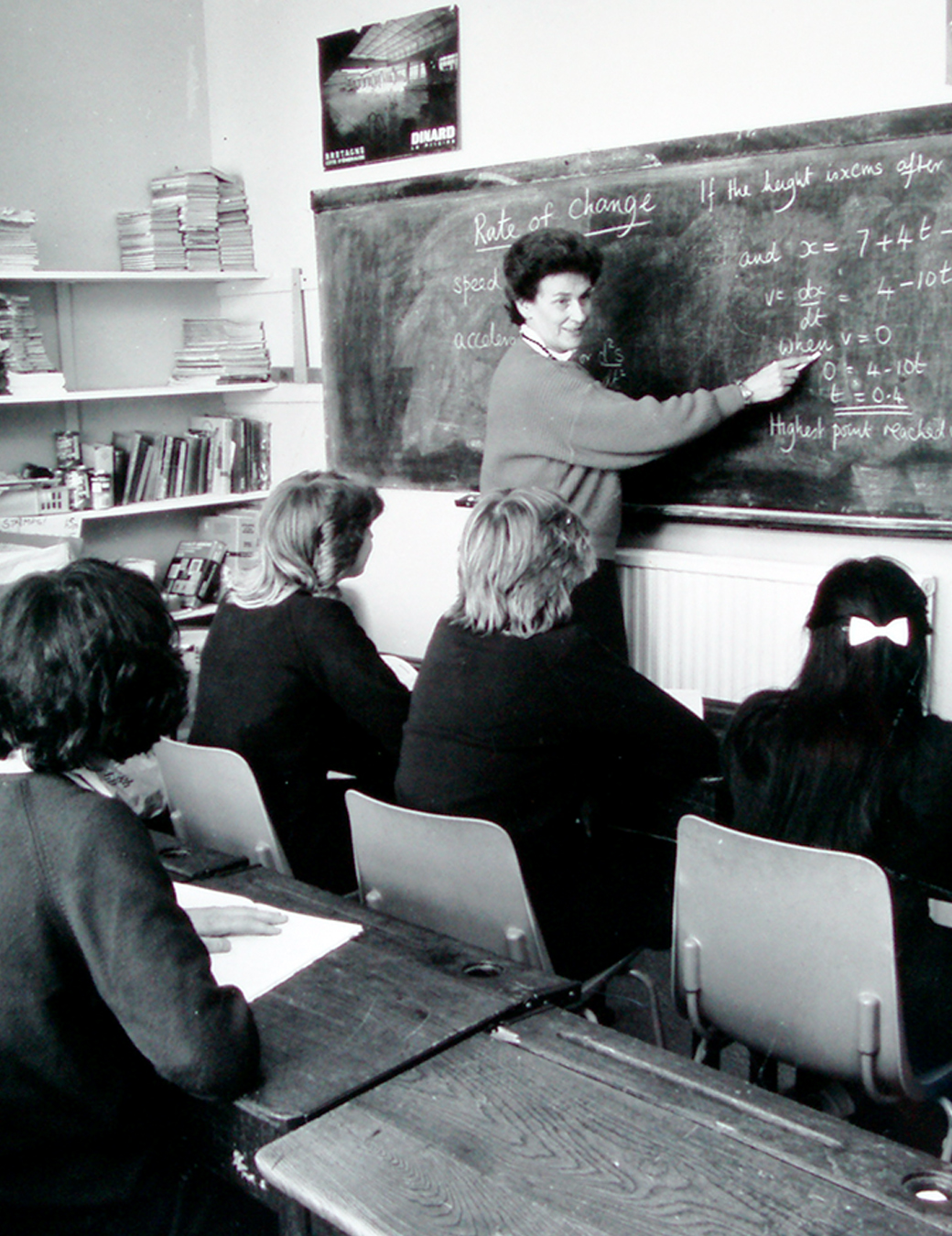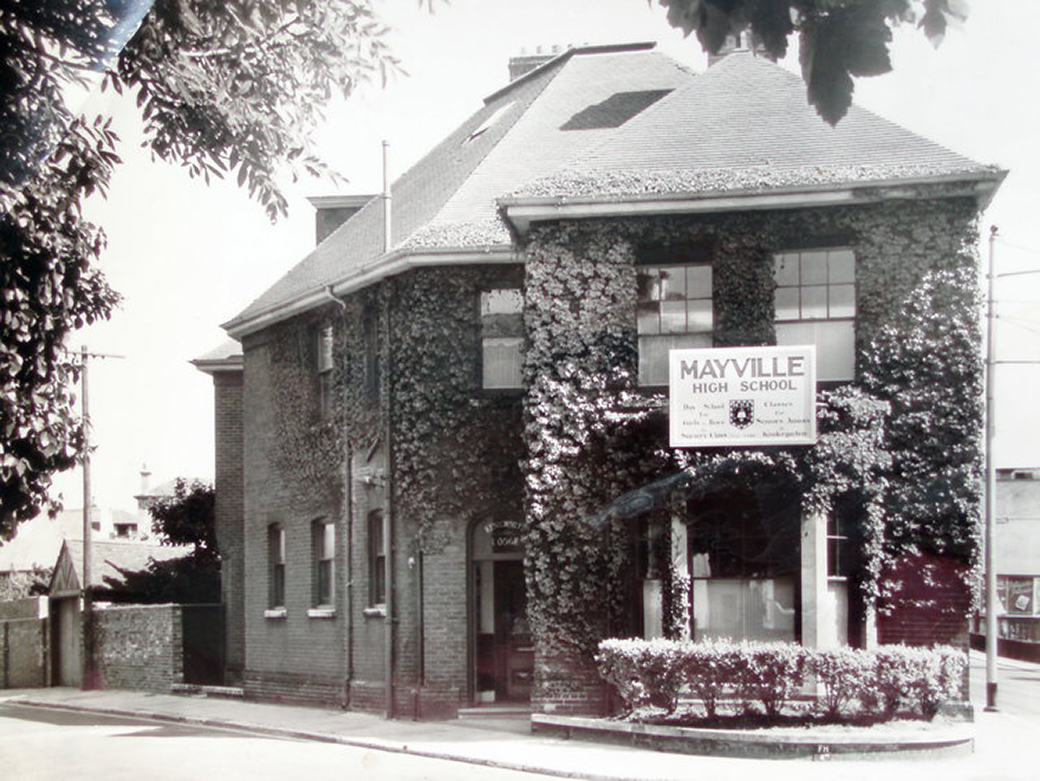 Martin Castle's years as Headteacher from 2009 saw Mayville secure its own playing fields – more than 20 acres of green space in Eastney. This made Mayville the only independent school in Southsea to have its playing fields a stone's throw away.
Linda Owens returned as Head for a brief spell in 2013, leading the whole school into a stage performance of Peter Pan at the King's Theatre. BBC South came to film Mayville children being taught to fly during the production by a specialist flight team. When Linda Owens finally felt it was time to hand over the leadership, Rebecca Parkyn, a former pupil, was ready to take up the challenge in 2014. She fervently believes in Mayville's ethos, 'Academic Excellence Through Nurture'.
However, there is also much change as the School continues to expand and flourish. After months of careful planning, a new Senior block, Michael Babcock House, was opened in April 2017: comprising a hall, six new classrooms, a new DT room, a recreation space for our year 11s and an IT suite. Hot on its heels, in September 2018, Charlotte West House, a new block comprising Music and Art, was opened on the Livesey campus, thereby completing the building work in the Senior School. The School continues to expand and currently holds 500 pupils.